WageWorks "Thrilled" To Join Dynamic CityCenter Community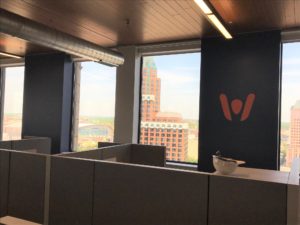 Editor's note:  Compass Properties Executive Vice President Sheldon Oppermann was recently interviewed by the Milwaukee Journal Sentinel's business editor Tom Daykin on Wageworks' decision to move to CityCenter@735, based on its desire to attract and retain talent.  The story describes how an effectively restored, iconic office center like CityCenter can be the ideal landing spot for growing companies such as Wageworks.   
Click here to read the entire article.  See below for excerpts.
CityCenter's occupancy rate just rose to around 90 percent when WageWorks Inc. moved this week into 37,000 square feet on the top two floors. The firm moved from 10375 N. Baldev Court, Mequon, to streamline its operations, obtain space for future growth and better retain and attract younger employees.
"The vibrancy of downtown Milwaukee reflects our culture and values, and we're thrilled to join this dynamic community," Joe Jackson, WageWorks chair and chief executive officer, said in a statement.
WageWorks had choices throughout downtown. Along with its location, CityCenter competed with its tenant amenities. Those include a concierge service, conference rooms, and bike storage, locker room and showers for workers who commute by bicycle.There are also the offbeat features, like… the pontoon boat, which Oppermann calls a floating conference room. It allows CityCenter tenants to take advantage of the building's boat slips along the Milwaukee River.