UWSP, Noel Compass Program Recognized for Innovative Diversity Efforts
The State Council on Affirmative Action honored the University of Wisconsin Stevens Point (UWSP), the Noel Compass Program and other winners of its 20th Annual Diversity Awards in a ceremony at the Wisconsin State Capitol Assembly Chambers on Thursday, October 24, 2019.  The awards recognize state agencies, universities and employees for contributions to diversity efforts.
The 2019 Ann Lydecker Educational Diversity Award was presented to the University of Wisconsin-Stevens Point and its Noel Compass Scholar Program.  The program, created by Compass Properties Founders John and Patty Noel in 1996, provides full scholarships to attend UW-Stevens Point, paid internships to area companies and mentoring for students of color at Wisconsin high schools.
The Noels created the Noel Compass Scholarship to provide proactive high school students of color with an opportunity to gain a valuable education and work experience in Stevens Point, WI.  The scholarship focuses on five "ships:" Scholarship, Internship, Mentorship, Fellowship and Leadership. Each of these "ships" is designed to help each Compass Scholar through their journey at the University of Wisconsin-Stevens Point, and help them prepare for successful careers.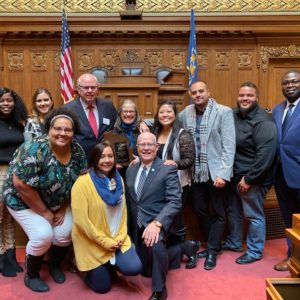 A number of Compass Scholars Alumni joined John, Patty, Dr. Sam Dinga (UWSP Director of Diversity and College Access) and UWSP Chancellor Bernie Patterson for the award ceremony in Madison. Jennifer Harter, a Compass Scholar Alumna who now owns her own design firm (Fishbowl Creative), says the program is "life-changing" and has had a "ripple effect that is making waves around the world."
"The Noel Compass Scholarship is so much more than just financial assistance. It teaches and encourages hard work ethic, inspires and promotes leadership," she said. "John and Patty Noel have always led by example, and they have had a huge impact on so many lives."
Compass Scholar Alumna Natasha Loesch, Account Management Specialist at Compliant Pharmacy Alliance Cooperativ, noted that countless students and Stevens Point community members were forever changed through their involvement in the Compass Scholar Program. "It's an honor to be counted among the alumni of the program and I will forever be inspired by the way John and Patty's direction is led by their values."
Compass Scholar Alumnus Joe Gallion said it was humbling to know that many of those assembled for the diversity awards have spent their entire lives advocating for diversity and equitable opportunities in our communities. Gallion, a business development manager at Berkshire Hathaway Specialty Insurance, said "At the ceremony, I felt great pride to be an Alumni of the Compass Scholar program.  It has helped me and many of my fellow scholars learn that we all share more commonalities than differences, that people of color matter, and that we too can pursue happiness and success."
The State Council on Affirmative Action, appointed by the Office of the Governor and State Legislature, advises the State of Wisconsin Division of Personnel Management Administrator on state affirmative action efforts.
"We are celebrating 20 years of doing the Diversity Awards," said Corinda Rainey-Moore, vice-chair of the State Council on Affirmative Action. "It was highly welcomed by the state to have this opportunity to showcase the different programs and individuals who have contributed to diversity and inclusion in the state of Wisconsin."
# # #
Alumni, alumna or alumnus?   What's the difference?