Compass Properties Promotes "Bike to Work Week" with Free Bike Tune-ups for Madison Tenants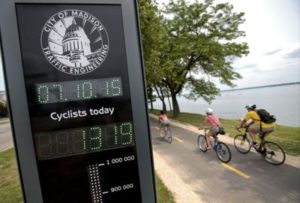 Compass Properties is offering free bike tune-ups to its Madison tenants to help promote National Bike to Work Week (May 13-17.) The tune ups will be provided by Velofix of Southern Wisconsin, which operates a mobile repair shop that is fully stocked with bicycle parts and accessories.
The mobile bike shop will be at Compass Properties's Esser Place Office Complex on Tuesday May 14th; Park West I and Park West II on May 15; High Point Plaza and High Point Office buildings on May 16; and the American Parkway, Terrace Drive  and Daniels Street buildings on Friday, May 17th (National Bike to Work Day.)
Compass Properties has long been a proponent of "bike to and from work" initiatives.  It is one of only 13 companies in Madison and 44 companies in Wisconsin that has earned a Bicycle Friendly Business award from The League of American Bicyclists.
In 2015, Madison became one of only five cities to reach platinum-level status as a Bicycle Friendly Community. According to its report card from the League of American Bicyclists,  Madison has a Bicycle Friendly Campus,  13 Bicycle Friendly businesses and an active bike advocacy group.  Madison was also named as one of the top 10 cities for biking in the United States by PeopleForBikes, a nonprofit that created the PlacesForBikes City Rating.
Todd Greenwald is the Madison Property Manager for Compass Properties.  He hopes his Madison tenants will take advantage of the free tune ups and consider commuting to and from work by bike when they can.  "Wellness is connected to environmental health and vice versa — that's why we're committed to supporting personal wellness and sustainability," he said.  "When done correctly, it can motivate tenants, employees and even community partners to seek out and collaborate on new ways to improve the environment and support healthy lifestyles."