Five Questions with Todd Greenwald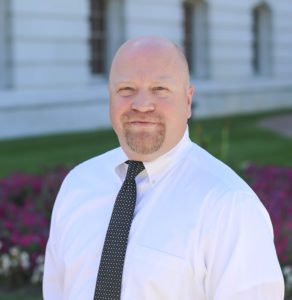 Todd joined Compass Properties in 2015. He focuses on our properties in the Madison area, is actively involved in promoting building sustainability and serves as President of Madison's International Facilities Management Association Chapter. 
How would you describe the current CRE market in Madison, especially as it relates to office space?
The Commercial Real Estate in Madison, WI is HOT, and has remained strong throughout 2019. Activity remains high in all sectors, and we've seen a continued strong demand for office space.  One area of Madison that has been especially active is the East side, driven by CRE development that includes UW Health's planned $255 million clinic on Madison's Far East Side.. All our area properties have high occupancy rates and I believe that applies to most Class A and Class B office building in the area.
Co-working, or flexible office space is the fastest growing market segment in the US. Here in the Madison area,  that's translated into a high demand for small office space  (under 1,500 sf) which has zapped the overall office space inventory.  STEM tenants (high-tech companies engaged in science, technology, engineering, and mathematics) are also driving the demand for Class A office space here in Madison and throughout the Midwest.
What are the most sought-after building amenities today, and has that changed from 10 years ago?
What was considered an "amenity" 10 years ago has become the standard for many clients – things like conference/training rooms, 24/7 access,  fitness facilities and attractive common areas.   Today,  most businesses are competing in tight labor markets, and want distinct office amenities to help them attract and retain employees.  Things like wellness programs, concierge services and communal spaces where people can meet, interaction and collaborate.  The creative use of outdoor space is becoming more common, such as an outside conference/meeting areas, community gardens, walking trails, bike racks and pet-friendly areas.  The solutions really need to be tailored to the needs of the tenants, in ways that support their teams and create productive work environments.
Compass Properties has developed a reputation as a green and sustainable CRE developer What are some of the ways that Compass Properties walks its talk?
Compass Properties has always emphasized the importance of our impact on the environment and community — we take that responsibility very seriously. For all of our properties, we set out with 3 goals in mind: reduce waste, encourage healthy lifestyles, and implement energy saving programs. We proactively look for ways that we can "be better," and that's helped produce some pretty unique opportunities.  In Madison, we were a part of Sustain Dane's MPower program, which encouraged us to implement a number of operational changes (indoor bike storage rooms, hands free faucets, fitness rooms, water bottle refilling stations, LED lighting retrofits.) We have long been a proponent of "bike to and from work" initiatives, and we are one of only 13 companies in Madison and 44 companies in Wisconsin that has earned a Bicycle Friendly Business award from The League of American Bicyclists. We were honored to earn the Platinum Award of Excellence from the International Facilities Management Association (IFMA), as it validates the importance we place on sustainable facility management practices.  When done correctly, sustainability can be contagious. It can motivate tenants, employees and even community partners to seek out and collaborate on new ways to improve the environment and support healthy lifestyles.
 You recently became acting president of The Madison Chapter of IFMA. Can you tell us a little bit about the organization? 
IFMA is an amazing and diverse association for facility management professionals that has 24,000 members in more than 10​0 countries.  For more than 25 years, our Madison Chapter has focused on education, professional development and networking.  We are the largest area group specifically focused on the advancement and support of those involved in facility management.
 As president, I hope to advance our effectiveness through some new initiatives:
 I'd like to develop new ways that our Membership can connect and mentor with new Members and those interested in the Facility Management industry.
I want to develop a Student Chapter in Madison to connect college students with those of us who has work experience in the profession.  For example, Madison College has a Facilities Management Certificate course. 
I'd also like to see a new level of volunteer involvement and engagement.
Our Chapter is strong because of our volunteers – it's important to stress the need for new volunteers so we can continue to evolve and grow as an organization.
 What has made Compass Properties successful in its first 20 years?
Compass Properties has always focused on long-term relationships with the people we do business with, the people we interact with, and the people that are a part of our team. Every day, we make decisions that are in the best interest of those relationships, because they are vital to our success.  We are Wisconsin-based and privately held, which make us exceptionally agile and responsive. We have a customer-focused, sustainable approach to facilities management that has been recognized locally and globally.  Most important, we have a valued-based approach to the way we do business.  We believe treating people fairly and with respect is just not the right thing to do, it's the right way to do business.