FIVE FACTORS THAT INFLUENCE OFFICE SPACE DECISIONS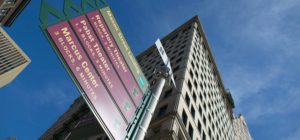 The commercial real estate market is on an "accelerating disruption curve"  highlighted by rapid changes in tenant dynamics, customer demographic shifts and an ever-increasing focus on improved services and amenities. In today's environment, offering the best financial deal is no longer enough to convince companies to sign leases for commercial office space.  Companies are making more strategic decisions regarding their office space needs and they are more willing to dictate exactly what they want.  Here's five factors that are having a huge influence on their office space decision-making process.
Flexibility 
Flexibility has become the key word for companies searching for space, because their businesses are changing so rapidly.   Companies don't want to be stuck in spaces that inhibit growth.  From movable walls to co-working spaces to buildouts, they want flexible space that can be adjusted to their current and future business needs.  Creating work space areas that can be easily adapted has become an essential element of office design. Modular soft seating, workbenches, desk pods and "meet point" are examples of  choices that support a well-designed and adaptable workplace.
Activity-Based Workplaces 
A number of articles and experts have called into question the effectiveness of open plan workspaces which started gaining popularity a decade ago.   Today, most work environments have evolved beyond open plan spaces to Activity-Based Workplaces.  (ABW).  This office concept creates task-oriented solutions that encourage movement and empower people to select the right space for the job at hand.  Typically ABWs offer more communal areas, open spaces and fewer private offices.  Forward thinking companies recognize that not every employee works best sitting at a desk all day –some of the most productive work environments are those that give employees the choice of alternative spaces from which to work. Hoteling, or providing plug-and-play stations for shared use are also gaining popularity.
Amenities
In the battle to attract top talent, companies are offering an increasing number of office amenities to attract and retain employees. These can include everything from on-site food service to health club facilities, concierge to high tech perks, bike storage to pet friendly services.   Our CityCenter@735 building in Milwaukee offers a wide range of amenities that are aligned with the goals of our clients.   "When I'm working with a client today, it's critical to know their business and the type of employees they have, so we can determine what amenities are most appropriate for their needs," said Sheldon Oppermann, Executive Vice President for Compass Properties.
Maintenance and Operations.
From office temperature to elevator speed, tenants want a problem-free environment. But if problems do happen, they want them resolved quickly.   One trend helps address this demand: online notification systems through which tenants can report problems and track response status.  When it comes to maintenance and operations, tenants tend to remember the bad, rather than the good.  Professor Roy Baumiester at Florida State University researched this phenomenon in their aptly named article, "Bad is Stronger Than Good." According to Baumiester, "you are more upset about losing $50 than you are happy about gaining $50."  In context of tenants: the hard work invested into a perfectly operating building might go unnoticed, but a day when things go wrong will not.  Responding in a timely manner and communicating clearly are best-practices that can reduce the impact of a negative experience.
Urban, Downtown Locations
The recent demand for office properties located in urban markets remains hot, particularly in downtown areas. Companies looking to attract and retain younger employees want offices close to walkable amenities and public transportation. To lure tech-savvy millennials, many companies that years ago moved out to the suburbs are heading back to the urban downtowns that offer the lifestyle this generation of employees desires. "The times have changed and the attitudes have changed," says Stephen Friedman, a development adviser and urban planner in the Chicago area. "It isn't just that millennials want to work downtown, it's that so many of them want to live there."
"Companies are gravitating toward redeveloped, historic downtown buildings with flexible work zones and collaborative space," says Compass Properties President Tyler Noel.  "They want amenities like convenient food options, shared conference rooms, fitness facilities, bicycle parking, and a solid tech infrastructure.  These are all things we include in our buildings, especially at the CityCenter @ 735 in Milwaukee and the CitySquare Office Center in downtown Wausau."
Have questions about available space in any of our Wisconsin properties?   Please contact us at (608)-294-9400, info@compassproperties.com or click here.