Creative Conversions Breathe New Life into Iconic Buildings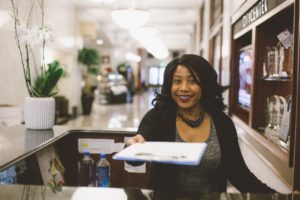 As companies seek out downtown office space to align their businesses with the amenities coveted by young workers, creative conversions of iconic office buildings continue to be a hot commercial real estate trend.
With creative conversions, developers look to create amenity-rich spaces in older, iconic office buildings rich with character.  In Chicago, The Hartman Building at 30 E. Adams Street is about to begin its transformation from office space into new amenity-rich apartments.  It's the latest of several ongoing projects designed to give iconic Loop office buildings new leases on life.  In Santa Monica,  a former Sears department store (and city landmark) in the downtown area is being converted into a four-story mixed-use creative office space called the Mark 302.
While creative office conversions are not new, the "sheer volume" is what makes things different today, according to Michael Soto, Director of Research in Southern California.  He notes two trends that are fueling demand for creatively converted office space.  "One, technology, advertising, media and other companies trying to attract millennials… And two, tenants are returning to cities, where they can take advantage of live/work/play environments."
Milwaukee's downtown business community is booming, due in large part to these two trends.  As the Milwaukee Journal Sentinel pointed out in a recent article, "The bevy of construction cranes hovering over downtown Milwaukee reflect an extraordinary commercial real estate boom that is reshaping the city's skyline and transforming the ways its people live, work and play. Simply put, we are witnessing the remaking of downtown Milwaukee."
Even with the construction boom, many companies prefer the character and location of existing buildings. However, tenants are not interested in properties that show flagging infrastructure and stale amenities. "Any commercial office building planning to remain viable and fully occupied in today's market will need to present a savvy mix of amenities, create meaningful partnerships with its tenants, and stand out in a crowd of buildings all hustling for that new lease," according to www.facilitiesnet.com.panies who are looking for an authentic live/work/play experience for their employees,"
'When a restoration of a city icon is done effectively, it can be the ideal landing spot for growing companies," said Compass Properties Executive Vice President Sheldon Opperman.  "Companies should look to generate a return on their  investment  they make in rent or lease of their space.  That happens when you find a location and building that reinforces your brand, strengthens your ability to attract/retain talent, and demonstrates to your employees/your customers that you value them."