Compass Properties Now Owns Park West I Building in Madison's University Research Park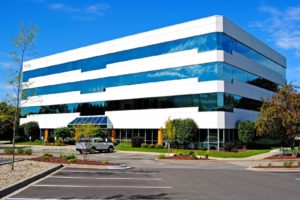 Compass Properties recently purchased the Park West I office building in Madison's University Research Park at 406 Science Drive.  The acquisition of the 4-story, 50,000+ square foot building expands the company's footprint in the internationally recognized University Research Park, as it currently owns the adjacent Park West II building, as well as other prime office buildings in the greater Madison area.
"The Park West I building is a great addition to our portfolio, as it offers a convenient location, abundant parking and proximity to some of Madison's most innovative and successful engineering, computer and life science businesses," said Tyler Noel, president of Compass Properties.   "We are very familiar with University Research Park, as we've owned property there since 2013.  The demand for commercial office space in Madison continues to grow at a steady pace, so we felt now was the perfect time to make this acquisition."
Noel said extensive capital improvements have already been made to the Park West I building, including HVAC systems, updated elevators, lobby upgrades, interior lighting upgrades and upgrades to the conference room facilities.   The building is currently 97% occupied and its tenants include Rogers Memorial Hospital, Prosthetic Dental Associates and Madison Endodontic Associates.
"We're excited to leverage the client-focused property management services we provide to our tenants in Park West II to meet the needs of our new tenants in Park West I," Noel said.  "We have deep roots here and are pleased to strengthen commitment to our clients in the Madison area."
The Park West I office building is located near the entrance of University Research Park, a research and technological oriented business park on 351 acres that is home to approximately 128 companies and generates almost a billion dollars in economic impact each year.
Click here for details on Park West I.