Compass Properties Announces Promotions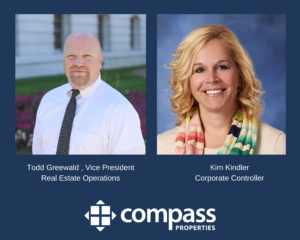 Compass Properties is pleased to announce the promotion of Todd Greenwald to Vice President of Real Estate Operations and Kim Kindler to Corporate Controller.
"Todd and Kim have made major contributions to the growth of Compass Properties and each are excellent representatives of our principled approach to doing business," said Tyler Noel, Compass Properties President. "In their new roles, both will continue to be an important part of our sustainable growth and long-term future."
Greenwald is actively involved with the Madison Chapter of the International Facility Management Association (IFMA) and currently serves as its president.  Prior to joining Compass Properties, Greenwald held property and operations management roles in commercial real estate. In Greenwald's new and expanded role, he will oversee the company's property management teams, manage day-to-day operations and continue to handle brokerage services for the Madison area and oversee leasing activities for our markets outside of Madison.
Kindler joined Compass Properties in 2012 and previously worked for its parent company Noel Group in the early 2000s.  In her new role, she will oversee the company's accounting and financial reporting, tax finance project management and payroll processes.
About Compass Properties
Compass Properties is a privately held, Wisconsin-based company that develops, manages and invests in commercial properties primarily in Madison, Milwaukee, and Central Wisconsin.  Click here for more info.