Bringing Back Brutalism: Wausau's CitySquare Represents Resurgent Architectural Style
One of the more controversial forms of architecture, Brutalism has made its way back and could be on the verge of a "breakout moment" in the United States, according to Michael Kubo, an architect and architectural historian.   In Britain, the style "has become very, very faddish," Kudo  notes, and "I feel like Britain is 15 years ahead of what might happen in the U.S."
 Brutalism first became popular through the work of British architects, Alison and Peter Smithson. According to a New York Times article, "Brutalism is Back," the purity of its composition of concrete, steel and/or brick is what creates its honest feel. This simplicity was revitalizing after the political turmoil of World War II, as leaders and civilians inmany countries found it a symbol of strength, unity, and positive outlook on the future.
Wausau is fortunate to have its own building featuring Brutalist Architecture—The CitySquare Office Center located at 500 N. Third Street. Built in 1976 and designed by Childs & Smith, CitySquare portrays the essence of Brutalism with its dynamic, geometric style and copious amounts of concrete build. The 165,000 square foot building spans a full city block and features eight stories with excellent views, a contemporary lobby, complimentary conference rooms and an adjacent parking ramp with a skywalk connection.
Recently, CitySquare Office Center has gone through a much needed and dramatic renovation, breathing new life into the 37 year old building. The first phase of updates centered on the lobby, while the second round is focused on adding more amenities including: a new kitchen, gym, bike storage, and increased natural light.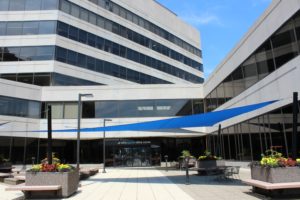 Click here for more information about CitySquare.